Todo Lists
View in iTunes
iPhone Screenshots
"Clear is quick, simple, intuitive, and perfect for busy people" — Gizmodo "Clear's interface is elegant and clever…" — The New York Times "If you're regularly turning to a simple to-do list app… Clear is definitely going to wow you." — TechCrunch Over 2.5 million people de-clutter their lives with Clear, so stop stalling and start organising your daily routine. Clear is the revolutionary to-do and reminders app that makes you more productive. It's as easy to use as pen and paper, and once you start organising your life with Clear you'll wonder how you ever managed without it. - Simple gesture-based design that allows you to focus on your to-dos. - Use separate lists to organize every aspect of your life. - iCloud sync built-in so you can be productive everywhere. - Set reminders so you'll never forget important tasks. - Personalize your Clear lists with themes and make them your own. - One universal download for iPhone, iPad and now Apple Watch! - Syncs with Clear for Mac (available separately on the Mac App Store) Since its launch in January 2012 Clear has won numerous awards and continues to receive critical acclaim. Clear is built by a small team, dedicated to bringing you frequent free feature updates. We'd love to know how we can make you even more productive, so get in touch via the App Store "Support" link, or tweet us @UseClear. Clear for iOS and Clear for Mac are not affiliated with or endorsed by CLEAR Wireless.
More
View in iTunes
Version: 2.0.4
Seller: Nice Mohawk Limited
Size: 2.45 MB
Languages: EN, FR, DE, EL, LT, NB, ZH, ES, ZH
iTunes Rating:
iPhone Screenshots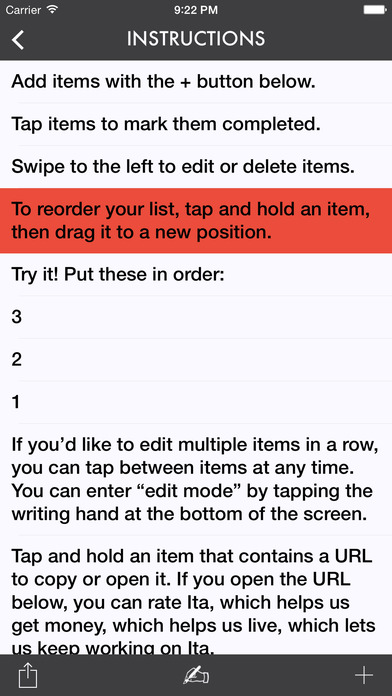 Ita makes list-making and note-taking quick, fun, and simple. In other words, better. We've made it easy to mark stuff you've done, move items around, and keep track of everything you want to remember. Ita works on iPhone and iPad and uses iCloud syncing to make sure your lists are with you wherever you go. Features › Universal for iPhone and iPad › iCloud syncing across devices › Drag items to rearrange › One tap to mark items completed › Add multiple items one after another with one tap › Easy to edit multiple items quickly by switching between them with a tap › Reinstate completed items, or vanquish them forever › Fully accessible through Apple's VoiceOver screen reader › Send lists to friends or yourself through email, Messages, or, like an animal, by printing Many thanks to our testers and customers. We appreciate your kind words, iTunes ratings, and support. We want to keep making Ita better and better, and your ideas, ratings, and even criticism help us out. You can reach us by tapping the atom icon in the top left corner of the app, and we'll respond right away. "A great list app that comes with iCloud sync, has a splendid interface and design, and actually make you want to use lists" —Christine Chan, AppAdvice.com "Great, beautiful new list app ... the developer of Ita has, in fact, a very nice mohawk." —John Gruber, DaringFireball.net
More
Clear is gorgeous and simple, meanwhile Ita also shares the simplicity with more options and a slightly better url scheme.