Twitter Apps
View in iTunes
Version: 3.13.2
Seller: Hootsuite Media Inc.
Size: 104.76 MB
Languages: AR, CA, DA, NL, EN, FR, DE, ID, IT, JA, KO, PL, PT, RU, ZH, ES, TH, ZH, TR
iTunes Rating:
iPhone Screenshots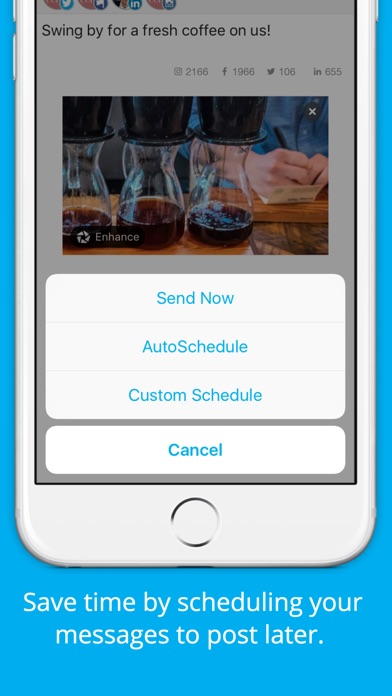 Share and schedule posts from your Twitter, Facebook, Instagram, and LinkedIn accounts all from one app. Hootsuite is the world's most popular social media management app and is FREE for up to 3 social network accounts. Want to manage more accounts? You can upgrade to Hootsuite Professional plan for $29 USD per month and receive a 30-day free trial (more details below). What people are saying: "Excellent... Hootsuite's beauty is its streamlined nature." – PC Magazine "...offers unrivalled features like post scheduling and statistics tracking." – CNET "This is no doubt the best client for professional social media users" – Engadget "The app looks lovely, and if multiple [social] accounts are your thing, it works wonders." – MacWorld Use the Hootsuite Mobile App to: * Bring the power of Hootsuite into the palm of your hand * Post messages to your favourite social networks within one app * Use AutoSchedule to spread messages out over a number of days, which is great for time management * View and manage all of your favourite social networks from one place * Use the Ow.ly link shortener to track click-through stats Start your free trial by upgrading to Hootsuite Professional for $29 USD per month. This will give you access to manage more social networks, remove ads, and access additional powerful features on the web. Subscriptions are auto-renewing and will be charged to your iTunes account automatically after your free trial unless auto-renew is turned off at least 24-hours before the end of the current period. Any unused portion of a free trial period will be forfeited when you cancel your free trial. If you wish to cancel your account, you must do so via your iTunes Account Settings which can be found within Hootsuite by visiting the Settings page and choosing to "Downgrade." Questions? Twitter: @Hootsuite_Help Facebook: http://facebook.com/hootsuite More info: Terms of service: https://hootsuite.com/legal/terms Privacy policy: http://hootsuite.com/privacy
More
View in iTunes
Version: 7.17.1
Seller: Twitter, Inc.
Size: 182.02 MB
Languages: AR, CA, HR, CS, DA, NL, EN, FI, FR, DE, EL, HE, HI, HU, ID, IT, JA, KO, MS, NB, PL, PT, RO, RU, ZH, SK, ES, SV, TH, ZH, TR, UK, VI
iTunes Rating:
iPhone Screenshots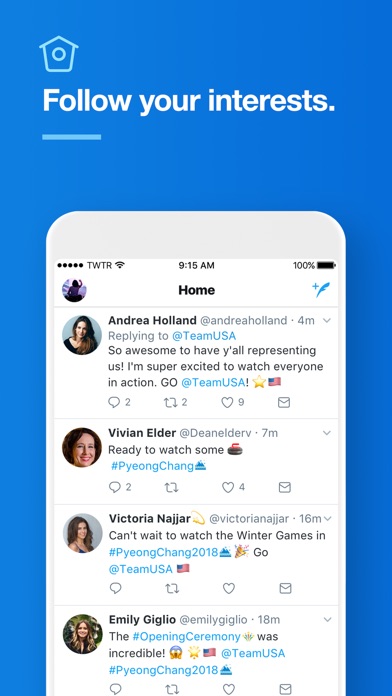 From breaking news and entertainment to sports, politics, and everyday interests, when it happens in the world, it happens on Twitter first. See all sides of the story. Join the conversation. Watch live streaming events. Twitter is what's happening in the world and what people are talking about right now. More highlights: - Watch premium and exclusive live streams directly from your mobile device. No account required. - Go Live with a tap or sit back and watch events unfold from around the world. Timeline - Discover what your favorite sports, news, politics, and entertainment thought leaders are talking about - Experience dynamic media — like photos, videos, and GIFs - Retweet, share, like, or reply to Tweets in your timeline - Write a Tweet to let the world know what's happening with you Explore - See what topics and hashtags are trending now - Discover Moments, curated stories showcasing the very best of today's biggest events - Get caught up on news headlines and videos - Relive the latest sports highlights - Be in the know about pop culture and entertainment - See what fun stories are going viral Notifications - Find out who started following you - Discover which of your Tweets were liked or Retweeted - Respond to replies or be alerted to Tweets you were mentioned in Messages - Chat privately with friends and followers - Share Tweets and other media - Create a group conversation with anyone who follows you Profile - Customize your profile with a photo, description, location, and background photo - Look back at your Tweets, Retweets, replies, media, and likes Connect - Get suggestions on influential people to follow - Sync your contacts to find friends currently on Twitter or invite more
More
I prefer Twitter because of the clearer design. As I only want to use Twitter and no other social network all necessary options are there.
lots of options I don't need if I only want to use Twitter
clearer interface because it has only the options necessary for using Twitter
nice option palette for creating a tweet
more options for creating a tweet (schedule or translate the tweet)
possible to connect to other social network accounts
all necessary options to use Twitter are there
HootSuite is a comprehensive social tool with stats for your tweeted links and connection to facebook and LinkedIn.
Uses the streaming API
In-app image and video preview
Direct messages
Multiple Accounts
Drafts
Connect to facebook and LinkedIn
Stats for tweeted links with Ow.ly shortener
Instant streaming updates
Inline image and video preview
Direct messages