Twitter Apps
View in iTunes
Version: 11.1.1
Seller: Ubermedia, Inc.
Size: 54.27 MB
Languages: EN, JA
iTunes Rating:
iPhone Screenshots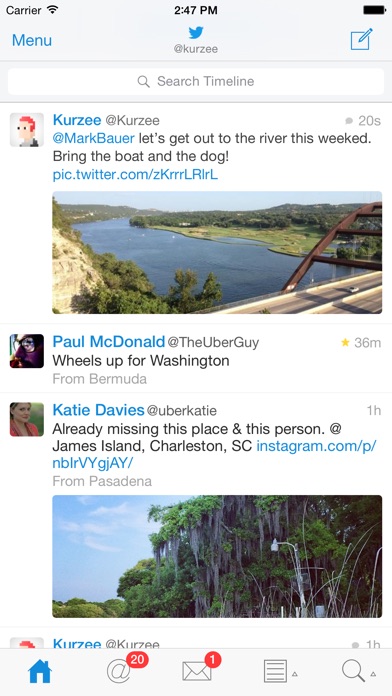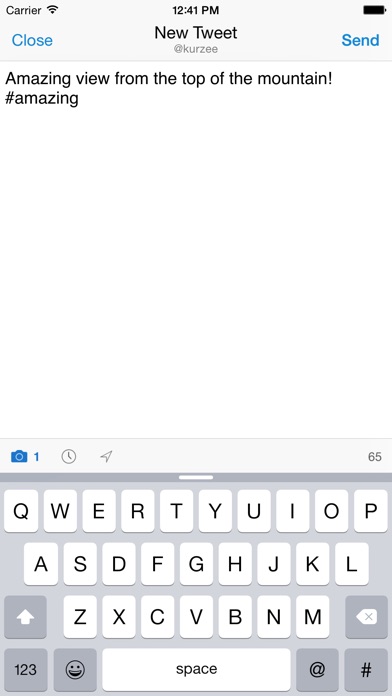 Echofon is the fastest, most powerful Twitter app for iPhone, iPod Touch and iPad and the ONLY free app with Push Notifications and Inline Photo Previews! ********** Lightning Fast. Super Powerful. Simple to Use. Echofon is wrapped in a beautiful, clean interface that delivers a punch featuring Twitter Site Streams, real-time Push Notifications and powerful extras to enable you to manage your busy social media life on Twitter. ********** BUILT FOR SPEED: + Site Streams deliver tweets in real-time! + LiveLinks on your timeline take you instantly to detailed content + Threaded Conversation Mode simplifies exchanges with your Twitter followers + Tweet over 140 characters with our proprietary tweet extender + Mute select users, hashtags and other nuisances within your Twitter timeline + Access ALL your Twitter accounts simultaneously REAL-TIME NATIVE PUSH NOTIFICATIONS: + Delivered instantly and natively to all your iOS devices + Enable any or all events including Mentions, Direct Messages, Follows, Favorites and Retweets + Set QUIET MODE for times you do not want to receive notifications + Receive notifications as either iOS alerts or banners + Enable sounds and badges as you prefer + Select from six custom alert sounds + This is NATIVE push from Twitter… no external apps or services required RICH MEDIA PHOTO AND VIDEO SERVICES: + Images are previewed within your Twitter timeline + Full-size images open instantly in-app + Supports the most popular services including Instagram and YouTube + Capture and tweet rich media directly from Echofon or load existing media from your iOS device MORE INNOVATIVE TWITTER FEATURES + Search nearby tweets with Maps integration + Personalize Echofon by choosing from 6 custom themes + Select a read later service from Instapaper, Readability or Pocket + Refine the location of your tweets sent with our Location Picker ********** Echofon also affords you the full Twitter functionality you would expect from an award winning Twitter app including robust tweet creation, trending topics, list management and Twitter profile editing features. Try it out for FREE in the App Store today!
More
View in iTunes
Version: 7.17.1
Seller: Twitter, Inc.
Size: 182.02 MB
Languages: AR, CA, HR, CS, DA, NL, EN, FI, FR, DE, EL, HE, HI, HU, ID, IT, JA, KO, MS, NB, PL, PT, RO, RU, ZH, SK, ES, SV, TH, ZH, TR, UK, VI
iTunes Rating:
iPhone Screenshots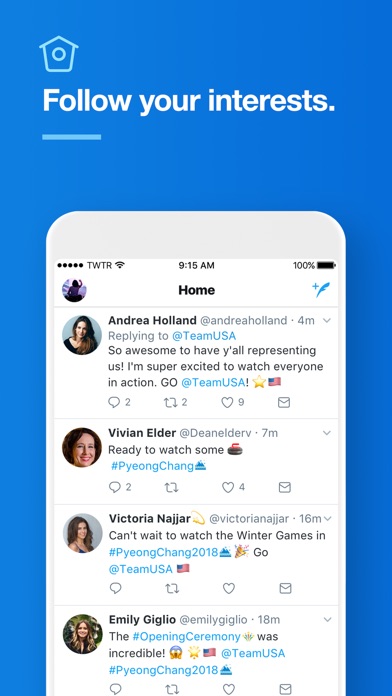 From breaking news and entertainment to sports, politics, and everyday interests, when it happens in the world, it happens on Twitter first. See all sides of the story. Join the conversation. Watch live streaming events. Twitter is what's happening in the world and what people are talking about right now. More highlights: - Watch premium and exclusive live streams directly from your mobile device. No account required. - Go Live with a tap or sit back and watch events unfold from around the world. Timeline - Discover what your favorite sports, news, politics, and entertainment thought leaders are talking about - Experience dynamic media — like photos, videos, and GIFs - Retweet, share, like, or reply to Tweets in your timeline - Write a Tweet to let the world know what's happening with you Explore - See what topics and hashtags are trending now - Discover Moments, curated stories showcasing the very best of today's biggest events - Get caught up on news headlines and videos - Relive the latest sports highlights - Be in the know about pop culture and entertainment - See what fun stories are going viral Notifications - Find out who started following you - Discover which of your Tweets were liked or Retweeted - Respond to replies or be alerted to Tweets you were mentioned in Messages - Chat privately with friends and followers - Share Tweets and other media - Create a group conversation with anyone who follows you Profile - Customize your profile with a photo, description, location, and background photo - Look back at your Tweets, Retweets, replies, media, and likes Connect - Get suggestions on influential people to follow - Sync your contacts to find friends currently on Twitter or invite more
More
The twitter app has experienced bad resonance since the last update, however I dont think Echofon is a better alternative.
Uses streaming API for wifi
Inline image and video preview
Direct messages
Push notifications for being followed, @mentions, direct messages or a reply
Instant streaming updates
Inline image and video preview
Direct messages