Twitter Apps
View in iTunes
Version: 2.8.7
Seller: Tapbots
Size: 11.23 MB
Languages: AR, EN, FR, DE, JA
iTunes Rating:
iPhone Screenshots
*** If you are running iOS 7, do not purchase this version, please get Tweetbot 3 instead *** Tweetbot is a full-featured iPhone (and iPod touch) Twitter client with a lot of personality. Whether it's the meticulously-crafted interface, sounds & animation, or features like multiple timelines & smart gestures, there's a lot to love about Tweetbot. What people are saying: "I've tried every iPhone Twitter client in the App Store, and Tweetbot is my favorite, hands-down." - John Gruber, Daring Fireball "Tweetbot puts a lot of useful Twitter features at your fingertips with the high level of style and polish that only Tapbots can provide. It's my new favorite client." - David Chartier, Macworld Brief Highlights: ◆ Multiple Timelines. Quickly switch between your lists as your main timeline. ◆ Smart Gestures. Use Twitter more efficiently with time-saving and configurable gestures. ◆ Native Push Notifications. ◆ Mute filters lets you block messages from users without unfollowing them. ◆ Sync timeline position, direct message read statuses and mute filters between iPhone and iPad via iCloud. ◆ Customizable Navigation. The last 2 tabs are customizable and unused tabs are easily accessible. ◆ Support for multiple services like Pocket, Instapaper, Readability, CloudApp and Droplr. ◆ Save drafts, add locations and POI's, attach photos/videos/notes, manage your lists, and much more. For complete details and a demo video on Tweetbot, visit tapbots.com/tweetbot/ *** If you are running iOS 7, do not purchase this version, please get Tweetbot 3 instead ***
More
View in iTunes
Version: 6.2
Seller: Twitter, Inc.
Size: 14.06 MB
Languages: AR, NB, DA, NL, EN, FI, FR, DE, HE, HU, ID, IT, JA, KO, MS, PL, PT, RU, ZH, ES, SV, TH, ZH, TR
iTunes Rating:
iPhone Screenshots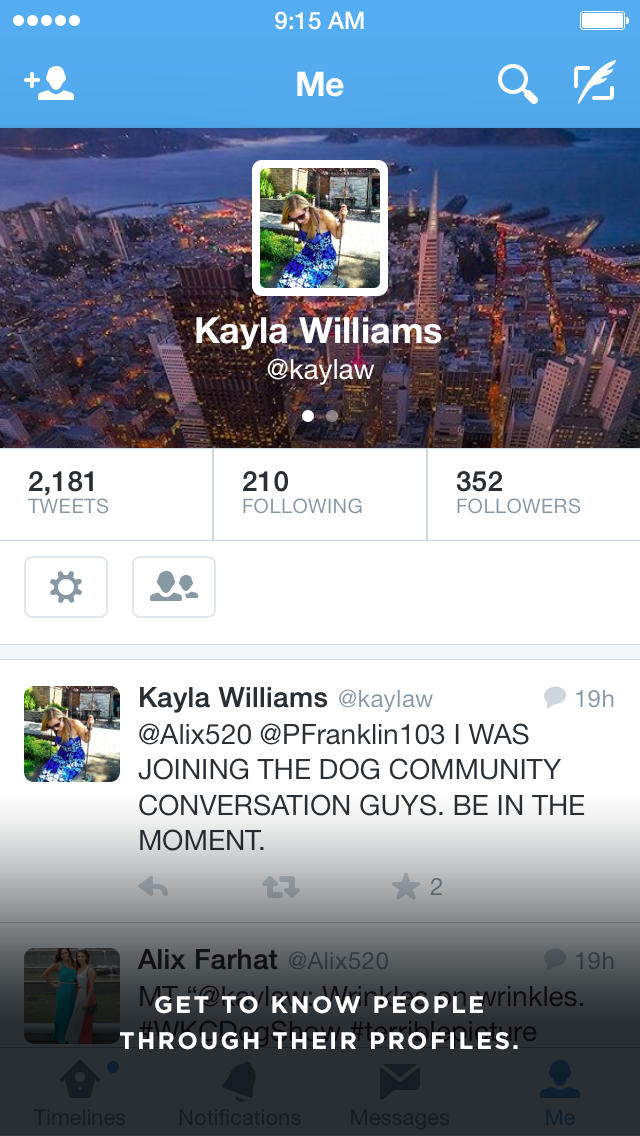 Twitter is the best way to connect, express yourself and discover what's happening. • Connect with people and your interests to get unfiltered access and unique behind-the-scenes perspectives. • Express yourself with photos, videos and comments. • Discover what's happening. Get real-time stories, pictures, videos, conversations, ideas, and inspiration all in your timeline.
More
Tweetbot is currently the best Twitter app T found.
Eyecandy design
Very good interface, not only visual also indicating sounds
Uses the streaming API
Inline image and video preview
Direct messages
Multiple Timelines
Customizable Navigation
Gestures
Support for several services like, Read it Later, Istapaper, Cloudapp and more
Instant streaming updates
Inline image and video preview
Direct messages
The official Twitter app has become quite good in design and features. It can not beat Tweetbot except concerning the price, but the difference in fea...
Eyecandy design
Very good interface, not only visual also indicating sounds
Instant streaming
In-app image and video preview
Direct messages
Multiple Timelines
Customizable Navigation
Support for several services like, Read it Later, Istapaper, Cloudapp and more
Instant streaming
In-app image and video preview
Direct messages
Manage lists
Discover with trending topics and tweets on themes