Astronomy Apps
View in iTunes
iPhone Screenshots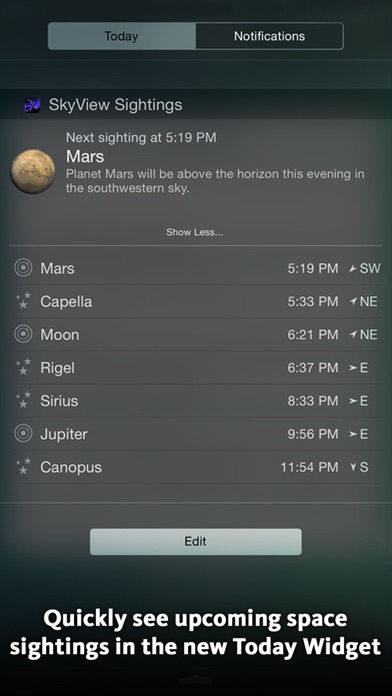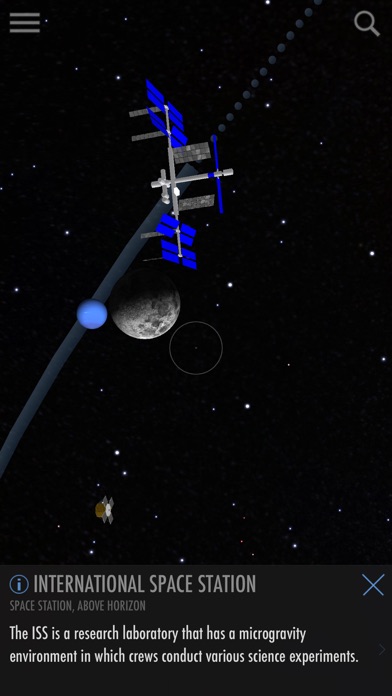 SkyView® brings stargazing to everyone. Simply point your iPhone, iPad, or iPod at the sky to identify stars, constellations, planets, satellites, and more! Over 1.7 million downloads. App Store Rewind 2011 -- Best Education App "If you've ever wanted to know what you're looking at in the night sky, this app is the perfect stargazer's companion." – CNET "If you've ever been looking for a stargazing app for your iPhone, then this [is] definitely the one to get." – AppAdvice "SkyView is an Augmented Reality app that lets you see just what delights the sky has to offer." – 148Apps Editor's Choice You don't need to be an astronomer to find stars or constellations in the sky, just open SkyView® and let it guide you to their location and identify them. SkyView® is a beautiful and intuitive stargazing app that uses your camera to precisely spot and identify celestial objects in sky, day or night. Find all 88 constellations as they fade in and out while you scan across the sky, locate every planet in our solar system, discover distant galaxies, and witness satellite fly-bys. Features: • Simple: Point your device at the sky to identify galaxies, stars, constellations, planets, and satellites (including the ISS and Hubble) passing overhead at your location. • Sighting Events: schedule alerts for upcoming celestial events. • Apple Watch: see what objects are visible tonight and how to spot them using your Apple Watch. • Today Widget: brand new iOS 8 today widget lets you quickly see upcoming celestial events. • Night Mode: Preserve your night vision with red or green night mode filters. • Augmented Reality (AR): Use your camera to spot objects in the sky, day or night. • Sky Paths: Follow the sky track for any object to see it's exact location in the sky on any date and time. • Comprehensive: Includes thousands of stars, planets, and satellites with thousands of interesting facts. • Time Travel: Jump to the future or the past and see the sky on different dates and times. • Social: Capture and share beautiful images with friends and family on social networks. • Mobile: WiFi is NOT required (does not require a data signal or GPS to function). Take it camping, boating, or even flying! What a fun way to teach yourself, your children, your students, or your friends about our wonderful universe!
More
View in iTunes
Version: 1.0.1
Seller: Simpaddico LLC
Size: 0.61 MB
Languages: EN
iTunes Rating:
iPhone Screenshots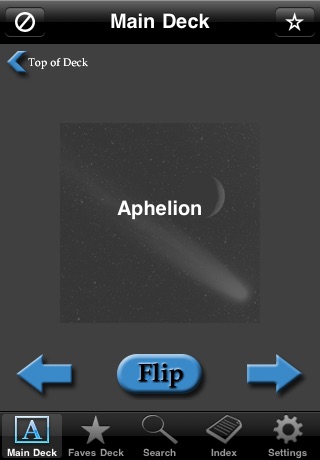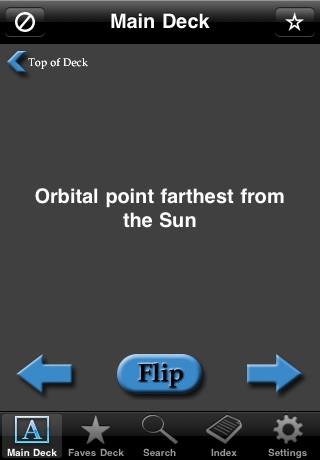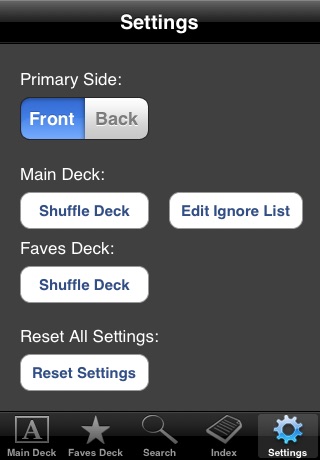 Learn about astronomy! Stargazer is a fully-featured flash card app that helps you learn about astronomy. Included in this app are: + Main Deck (over 100 flash cards!) + Faves Deck + Ignore Feature + Shuffle Ability + Choice of Primary Side + Search Feature + Index + Beautiful, Easy-to-Use Interface Individual cards can be added to or removed from a built-in "Faves Deck" at any time. Use the "Faves Deck" to study only the cards that really give you trouble! Cards can also be "ignored." If you've mastered a card, just add it to the "Ignore List." Both the "Main Deck" and the "Faves Deck" can be shuffled at any point. You can also select which side of the card (front or back) you want as the primary side. There's also a search feature and a complete index! The "Flip" button really flips the card (just like a real flash card!) and the arrows can be used to navigate to cards within a deck. With Stargazer, you'll be knowledgeable about astronomy in no time at all! We're always looking to make improvements to our products. If you have any questions or suggestions, please send us an e-mail at support [at] simpaddico.com.
More