Astronomy Apps
View in iTunes
iPhone Screenshots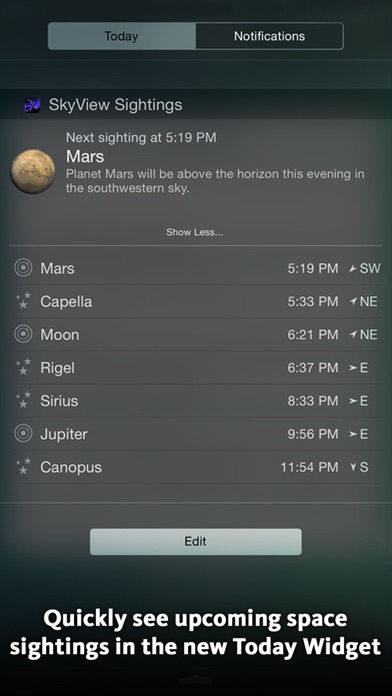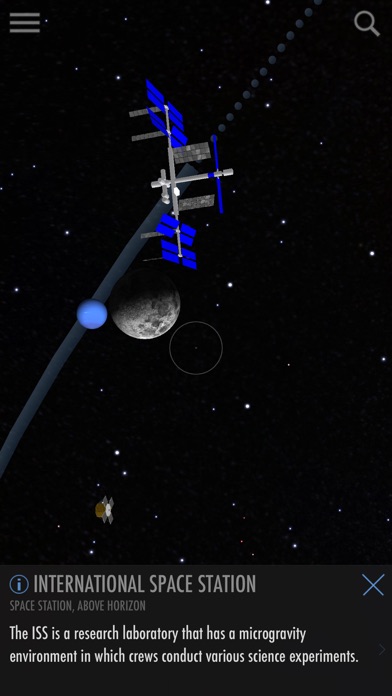 SkyView® brings stargazing to everyone. Simply point your iPhone, iPad, or iPod at the sky to identify stars, constellations, planets, satellites, and more! Over 1.7 million downloads. App Store Rewind 2011 -- Best Education App "If you've ever wanted to know what you're looking at in the night sky, this app is the perfect stargazer's companion." – CNET "If you've ever been looking for a stargazing app for your iPhone, then this [is] definitely the one to get." – AppAdvice "SkyView is an Augmented Reality app that lets you see just what delights the sky has to offer." – 148Apps Editor's Choice You don't need to be an astronomer to find stars or constellations in the sky, just open SkyView® and let it guide you to their location and identify them. SkyView® is a beautiful and intuitive stargazing app that uses your camera to precisely spot and identify celestial objects in sky, day or night. Find all 88 constellations as they fade in and out while you scan across the sky, locate every planet in our solar system, discover distant galaxies, and witness satellite fly-bys. Features: • Simple: Point your device at the sky to identify galaxies, stars, constellations, planets, and satellites (including the ISS and Hubble) passing overhead at your location. • Sighting Events: schedule alerts for upcoming celestial events. • Apple Watch: see what objects are visible tonight and how to spot them using your Apple Watch. • Today Widget: brand new iOS 8 today widget lets you quickly see upcoming celestial events. • Night Mode: Preserve your night vision with red or green night mode filters. • Augmented Reality (AR): Use your camera to spot objects in the sky, day or night. • Sky Paths: Follow the sky track for any object to see it's exact location in the sky on any date and time. • Comprehensive: Includes thousands of stars, planets, and satellites with thousands of interesting facts. • Time Travel: Jump to the future or the past and see the sky on different dates and times. • Social: Capture and share beautiful images with friends and family on social networks. • Mobile: WiFi is NOT required (does not require a data signal or GPS to function). Take it camping, boating, or even flying! What a fun way to teach yourself, your children, your students, or your friends about our wonderful universe!
More
View in iTunes
Version: 7.2.3
Seller: Vito Technology Inc.
Size: 143.24 MB
Languages: AR, NL, EN, FR, DE, IT, JA, KO, RU, ZH, ES, ZH
iTunes Rating:
iPhone Screenshots
Star Walk is the most beautiful stargazing app you've ever seen on a mobile device. It will become your go-to interactive astro guide to the night sky, following your every movement in real-time and allowing you to explore over 200, 000 celestial bodies with extensive information about stars and constellations that you find. ***Over 10 million users! Winner of Apple Design Award 2010*** ***No In-App Purchases*** Star Walk now works with Apple Watch to alert you of upcoming astronomical events. Get started quickly • Launch the app and point your iPhone at the night sky, you'll see the stars, planets, satellites, and constellations in their proper place from your location. As you move your device, the star map updates in real time. The Moon is the easiest first target. • Tap Augmented Reality icon in the upper right corner to add the image from your camera to your sky view. • Use Night Mode to go easy on your eyes and preserve night vision when exploring the Universe. Go deeper and beyond • Every object you tap has an (i) next to its name, tap it to access information. • A scale on right is the Time Machine, slide it to explore the map of the night sky of tomorrow or years ago. • A calendar of celestial events will make sure you never miss anything interesting. • TelRad will help you find the exact position of an object when stargazing with a telescope. Share your experience • Project to a big screen with no picture quality loss. Star Walk is your personal planetarium. • Explore stunning space pictures in Picture of the Day. • There is an entire stargazing twitter community within Star Walk - don't miss out! Duran Duran's keyboard Nick Rhodes mentions Star Walk as his favorite app: "With the Star Walk app, if you hold your iPod up towards the sky, you can see all the stars and constellations. It even tells you the names of all the planets. Then, if you point it towards the ground, it shows you what all the stars are in the other hemisphere. It's brilliant, and if you're ever somewhere with a clear sky and no light pollution, it's a revelation. It's beautifully designed and makes clever use of the available technology. I'm fascinated by astronomy, but even if you're not, give this a go." Links: http://vitotechnology.com/star-walk.html http://www.facebook.com/StarWalkApp http://twitter.com/starwalk
More
Same thought, different feeling. Star Walk is the better one as it is more serious and much nicer to look at.
Price
Caution: The price ratio has changed slightly
since the author compared these apps.
Introduction
Path of sun and moon
Find items
Stars, constellations, ...
Change time and location
A lot of information, nicely presented
Picture of the day
Celestial calendar
Paths
Search items
Stars, constellations, ...
Change time and location
Clear and informative design
Time travel: Move back or forward in time
Constellations fade in as overlay when you point at them
Search for stars, constellations or objects
Augmented reality
Time travel: Move back or forward in time
Search for stars, constellations or objects
Augmented reality
The interface is very user friendly with ver stylish design..
I like astronomy pictures of the day posted on a regular basis here.
Help me choose my dress!!
Price
Caution: The price ratio has changed slightly
since the author compared these apps.
Hello. ( nancy3j@yahoo.com ) I was very impressed to your profile and i feel to have a good friendship with you, my name is nancy, i hope you are do...