Todo Lists
View in iTunes
Version: 1.1
Seller: Aria Haghighi
Size: 0.1 MB
Languages: EN
iTunes Rating:
iPhone Screenshots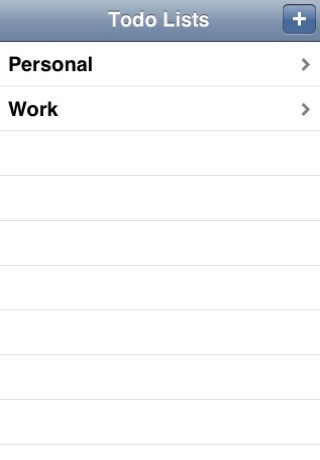 DoBot is a to-do list application with a clean Apple interface, lots of sorting options, and support for multiple lists. Soon, we'll be adding customized smart lists, web access to your to-do lists, and more. We'll keep adding more features as long as you keep requesting them. Everyone who joins our mailing list by September 1st, 2008, will be guaranteed free upgrades for life. Features ------------ * Delete lists and todos with a simple right swipe * Sort items by priority and due-date * Clean Apple-like interface * Free!
More
View in iTunes
Version: 3.4.12
Seller: 6 Wunderkinder GmbH
Size: 92.98 MB
Languages: SQ, AR, BG, CA, CS, DA, NL, EN, FI, FR, KA, DE, EL, HE, HU, IS, IT, JA, KO, MT, NB, FA, PL, PT, RO, RU, ZH, SK, SL, ES, SV, TH, ZH, TR, CY
iTunes Rating:
iPhone Screenshots
Wunderlist is a simple to-do list and task manager app that helps you get stuff done. Whether you're sharing a grocery list with a loved one, working on a project, or planning a vacation, Wunderlist makes it easy to capture, share and complete your to-dos. Wunderlist instantly syncs between your phone, tablet and computer, so you can access your to-dos from anywhere. "The best to-do list app." - The Verge Wunderlist has also been featured in The New York Times, Lifehacker, Forbes, The Guardian, Wired, and Vanity Fair, just to name a few. Key Wunderlist Features: • Add, organize and schedule your to-dos from your phone, tablet or computer • Set due dates and reminders to ensure you never forget important deadlines (or birthday gifts) again • Use subtasks, notes, files and comments to add important details to your to-dos • Create lists to help sort your to-dos for home, work and everything in between • Share lists and collaborate on your to-dos with family, friends and colleagues • Be productive from anywhere, thanks to Wunderlist's apps for your phone, smart watch, tablet and computer • Swipe down from any app to get a glance of your due to-dos with our Today widget • Quickly capture to-dos, and peek & pop tasks with 3D Touch on your iPhone 6S • Save web pages and articles for later with the Add to Wunderlist sharing extension Our Terms of Use: http://www.wunderlist.com/terms-of-use Our Privacy Policy: http://www.wunderlist.com/privacy-policy Learn more about Wunderlist at www.wunderlist.com
More
DoBot ToDos has nothing special, just plain to-do list where you can tick your tasks. Its so basic you may need the (in comparison) highly specialized...
Notes and lists
Due-date for to-dos
Sharing with other Wunderlist accounts
Notes and lists
Due-date for to-dos
iOS-like interface feels familiar